Description
Diego Nogueira

"Foi o melhor investimento que fiz. Uma bicicleta completa, com materiais de qualidade e acabamentos impecáveis!"
Naganocs

"Tenho vários tipos de bicicletas, mas nenhuma é tão bonita e boa quanto esta. Cada componente, cada detalhe parece ter sido cuidadosamente escolhido primando pela qualidade, funcionalidade e estética."
André Arigony Souto

"A bike atende todas as expectativas. E faz grande sucesso em Porto Alegre. E o atentimento é impecável. Recomendo 100 % a compra."
Glaucia MX

"Bike perfeita, sem defeitos e linda demais. Moro em um lugar onde partes do asfalto são péssimas pra se deslocar e andar com a Basement foi surpreendentemente confortável."
Rodrigo Hubner

"Bike perfeita! Acabamento primoroso é o diferencial da RIVA, também como o atendimento. Muito satisfeito com a compra. Parabéns à todos envolvidos, RIVA."
Essepê!
In limited series, Basement SP is a tribute to the city and the cyclists of São Paulo. It is a variation of our first release, Basement, which made our minimalist aesthetic and precise engineering emblematic.
Frame and fork in Cromoly SAE 4130

Profile Rims 40mm

Bullhorn handlebar; Drop, Pursuit or Riser

Novatec Sealed Flip Flop Hubs


Thickslick Tires 700x23c

Sturmey Archer Aluminium Forged Crankshaft 6061

Sturmey Archer's Chainwheel in Aluminium 7005

Aluminium Chainwheel Bolts 7005

Chain  KC410ARB - Rust Busted

Ratio: 48×18 Single Spee

d –

48×16 Fixed gear

Kit Selim + Manoplas / Piñatex® Tapes
#Designed and engineered in São Paulo
Basement SP also brings an unprecedented innovation, it is the first bike with the saddle coated with Pinãtex, replacing the animal leather with a material produced from the fiber of pineapple leaves that has the same physical properties and strength of leather. An exclusive RIVACycles.
Produced in Italy and Spain out off fibers from Southeast Asia, the material is handcraftedly applied on our saddles by SRD Brazil so you get the best finish and gripping.
At Basement SP you can choose the handlebar of your choice: Drop, Riser, Bullhorn and Pursuit. And of course, we have the finishing of your choice, with ribbons or handles.
BASEMENT's frameset is produced with a special steel alloy in chromium-molybdenum SAE 4130, also used in aeronautical applications and in the construction of vehicles for automotive competitions. The frames are built with double-butted tubes, of variable thickness, which allow the application of the right thickness in the right place, guaranteeing durability without adding unnecessary weight.
Welded through the TIG welding process, the frame has integrated chain tensioners with the dropout, making the transition from Single Speed to Fixed even easier.
Singlespeed or Fixed Gear?
BASEMENT comes with a flip-flop hub that offers a smooth transition between Fixed gear and Singlespeed.
The flip-flop type hub comes with two sprockets, one on each side of the hub, to give you the possibility of a "fixed pedal" (sprocket without freewheel) or with freewheel (conventional ratchet).
In fixed-gear mode, the sprocket has no freewheel, meaning when the pedals turn, your legs go with. If you want to feel really connected to the bike and the street, this is the way to do it.

If you prefer a more relaxed ride where you can coast down hills like on any other bike, simply flip the back wheel over and use the freewheel sprocket.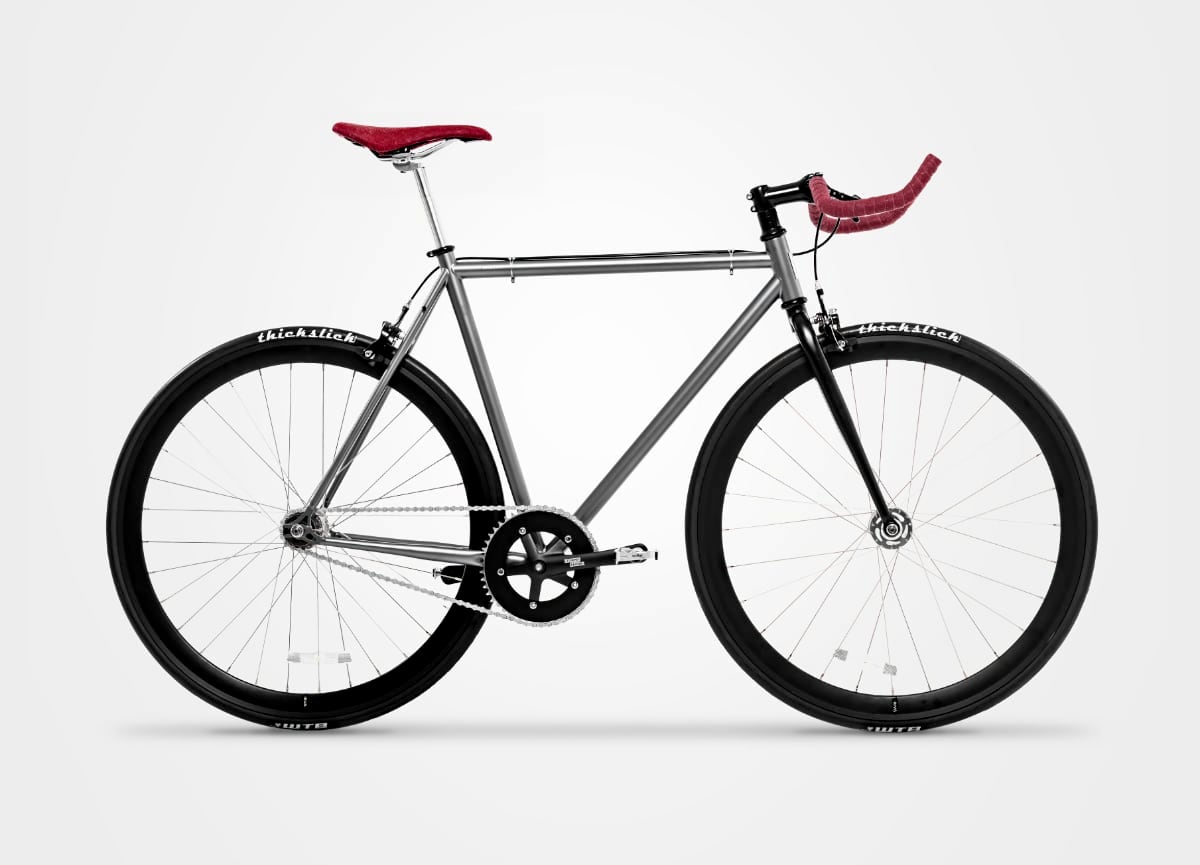 ---
Frame  

Frameset CR-MO SAE 4130, with Double Butted tubes, TIG welding and integrated chain tensioners 
---
Rims
Riva 700C 30mm - 32/28 Holes
---
---
Tires
WTB Thickslick 700x23C
---
Chain
 KMC KM Z410ARB - Anti Rust Busted
---
Sturmey Archer Crankset FCT18 - Aluminium 6061 - Aluminium Chainwheel 7005
---
Bottom Bracket
 Square ended - Sealed Cartridge - 68mm x 110mm
---
---
Brakes
Tektro R315/ RL570
---
Guidon
Riva Bullhorn, Drop, Riser or Pursuit 25.4mm
---
Stem:  Riva 90mm - Height 40mm
---
Seatpost
Riva 27.2mm x 300mm
---
Headset
Sealed Bearings 1-1/8
---
Ratchet/Cog
 Single Speed NDP 18T; Fixed 16T
---
Weight
Size 55 - 9.7 kg - * weight can vary up to 3%
---
---
*We reserve the right to make minor changes without prior notice.